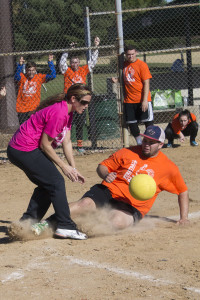 On Saturday, Nov. 14, our 2015 Provisional Class hosted the JLGA's first Turkey Ball Kickball Tournament at Gordon Moore Park in Alton, and raised $2,511 to benefit the Boys and Girls Club of Alton.
The funds raised will help to provide additional scholarships for the before and after school programs at the club.
The kickball tournament was just one part of this year's provisional project. The ladies also hosted a Dining Out For A Cause event at Mike Shannon's Restaurant on Nov. 18, and collected feminine hygiene products from members at JLGA's Christmas Party. The items collected were donated to the Alton Boys & Girls Club for young ladies in need of such items.
Thank you to everyone who helped contribute to these projects' success!