Members of the Junior League of Greater Alton joined a GED class at Lewis and Clark Community College, Tuesday, June 21, for a Cultural Food event to coincide with the students' lesson.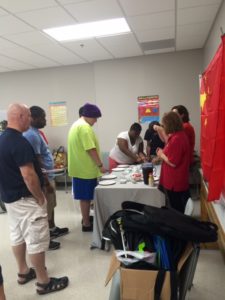 The women served food from three different cultures:
Appetizers – Asian – Chinese dumplings and Thai iced tea
Main Course – Mexican – Chicken soft tacos and homemade guacamole with Mexican soda (Jarritos)
Dessert – Italian – Cannoli and Italian soda (San Pelligrino)
"Cannoli were the biggest hit. The shells were provided, but the students prepared the creme filling and filled the shells themselves." said JLGA Project Coordinator Beth Wiemers. "All of our cultural tables had flags from their country and other cultural items displayed, and recipes for each item served were passed out to students during the event."
JLGA has chosen to work with L&C's Adult Education department to help promote Family Literacy in the Greater Alton area. Learn more about the ongoing project and partnership at http://juniorleaguealton.org/community-impact/current-projects.