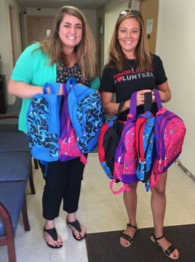 ALTON, ILLINOIS – Junior League of Greater Alton provided ten brightly-colored backpacks filled with school supplies to the Madison County Child Advocacy Center for their upcoming annual Kids Fair.
The packs will be distributed on Saturday, August 5 from 11 a.m. to 3 p.m. at the Alton Moose Lodge. With an emphasis on safety and interactive fun, the event includes vision and dental screenings, fire, home, and internet education, and the Bubble Bus.
"We find it so rewarding to be able to do this small act that has such a large impact," said Rhonda Brinkman, Community Outreach Chair of the Junior League of Greater Alton. "By providing basic school supplies, the CAC is inspiring kids get excited about education."
"Something as simple as new pencils, crayons and notebooks can inspire creativity and a love for learning. We're happy to help youngsters start the semester with all of the tools they need to succeed," said Maggie Kline of JLGA.
For more information on the Madison County Child Advocacy Center, visit www.facebook.com/madcocac.