Family Literacy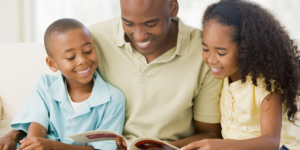 Illiteracy is an epidemic that impacts us locally and nationally and affects both adults and children.
"Did you know that 32 million adults in the U.S. can't read? That's 14 percent of the population! 21 percent of adults in the U.S. read below a 5th grade level, and 19 percent of high school graduates can't read.

The current literacy rate isn't any better than it was 10 years ago. According to the National Assessment of Adult Literacy (completed most recently in 2003, and before that, in 1992), 14 percent of adult Americans demonstrated a "below basic" literacy level in 2003, and 29 percent exhibited a "basic" reading level." – Huffington Post 2014
We are working with Lewis and Clark Community College's Family Literacy program to reduce those statistics right here in our own communities.
On Tuesday, June 21, 2016 – one of many projects planned with the group – joined a class of GED students at L&C for a Cultural Food Event where we assisted in serving up some international cuisine to go along with their lesson of the day.