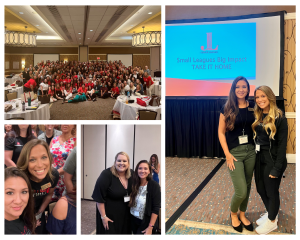 Last weekend, two of our very own JLGA members, Karissa and Christine, joined over 200+ incredible ladies and 70+ small leagues from across the country in sunny San Antonio, TX at the 2023 Small Leagues, Big Impact (SLBI) Leadership Conference.
We're buzzing with inspiration after meeting so many remarkable women and engaging in empowering conversations about growing together and creating positive change. It's clear that the impact of the Junior League extends far and wide, and we're so proud to be a part of this dynamic network!!
Huge thanks to our league leaders for investing in us and to the 2023 SLBI speakers for a truly enriching experience. Stay tuned for insights from this amazing opportunity! Here's to the power of community, collaboration, and shared purpose!