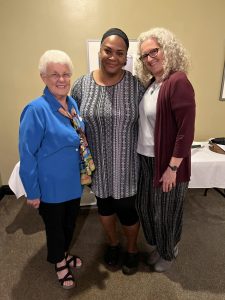 The October 12th General Membership Meeting (GMM) at Gentelin's in Alton was a memorable occasion filled with new faces, well-deserved recognition, and a heartwarming act of community service. We are delighted to share some of the highlights from this special gathering.
Welcoming New Faces: One of the highlights of the evening was the presence of numerous new faces that we had the pleasure of meeting at our recent Retro Recruitment Event. It was heartening to see such enthusiasm and interest in becoming part of our Junior League community.
Honoring Excellence: We were thrilled to recognize Ms. Linda Nevlin as an emeritus member of JLGA during the meeting. Linda's dedication and contributions to our organization have been invaluable over the years, and this honor is a testament to her outstanding commitment to our mission.
Scholarship Achievement: Another momentous occasion during the GMM was the recognition of Kenita Jalivay as the recipient of the JLGA Lewis and Clark Scholarship. Kenita's dedication to her education and her involvement in our community exemplify the values we hold dear at the Junior League. We are proud to support her educational journey and look forward to witnessing her future accomplishments.
Spreading Kindness: As a league, we believe in giving back to our community, and we ended the celebratory meeting by filling tote bags for our Caritas partners. These bags are destined to provide comfort items to teenagers in foster care, offering a glimmer of hope and support during challenging times. It's a small act of kindness with a big impact, and it reflects the compassion and generosity of our league members.
The October GMM meeting at Gentelin's was a testament to the strength and commitment of our Junior League of Greater Alton community. We extend our heartfelt thanks to all who attended and contributed to the success of the evening. Together, we continue to empower women, recognize excellence, and make a positive difference in the lives of those we serve.