Fostering Wishes: JLGA's New Program Creating Brighter Futures for Foster Teens
In the spirit of community service and commitme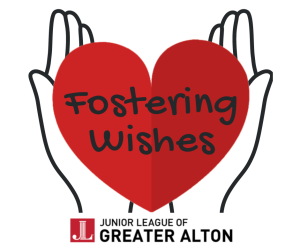 nt to enriching the lives of young individuals in the Riverbend region, the Junior League of Great Alton (JLGA) is embarking on an exciting new venture for the 2022-2023 term – the "Fostering Wishes" Program. This innovative project, proposed by the Impact-Based Community Initiatives (IBCI) Committee, is set to make a substantial impact on the well-being of foster teens and foster parents in our community.
Identifying the Need
JLGA's IBCI Committee recognized a pressing need in our community – the well-being of foster teens and the support of foster parents. These young individuals, often caught in a cycle of compound trauma, face challenges that can seem insurmountable. Meanwhile, foster parents, who generously give their time and care, require support and opportunities to recharge. The "Fostering Wishes" Program is designed to address these challenges in two phases.
Phase One: Granting Wishes
In the first phase, JLGA will grant a "wish" each month to foster teens. These wishes are tailored to create opportunities for these teens to feel seen, experience a sense of normalcy, and enrich their lives. Wishes could range from special outfits to hobby supplies to covering fees for lessons and camps. The key is that these wishes are based on specific requests from the teens themselves. JLGA members will work diligently to fulfill these wishes, ensuring a personalized touch and removing any guesswork from the process. This phase aims to provide stability and joy to foster teens, offering them experiences that are often beyond the means of most foster families.
Phase Two: Parent's Night Out
In the second phase, JLGA will organize periodic "Parent's Night Out" events for foster families, starting in Spring 2023. These events will provide childcare and age-appropriate enriching activities for a small group of children, allowing foster parents some much-needed respite. Foster parents can enjoy a few hours of relaxation and leisure time while knowing their children are in good hands. The program will coordinate events at various locations, offering a diverse range of activities for both children and adults, making it an easily replicable and sustainable initiative.
Community Collaboration
Collaboration with local organizations, such as
Caritas Family Solutions
and
Mid-Town Moms
, will be key to the success of this program. Caritas, a nonprofit social services agency, will help identify the teens and foster families most in need of our support. Mid-Town Moms and other community groups will provide additional hands and resources, allowing JLGA to expand its reach without overwhelming its members.
Scalability and Alignment with JLGA's Mission
The "Fostering Wishes" Program is designed to be scalable. JLGA will grant at least one wish per month and host two "Parent's Night Out" events annually. As funding and volunteer support grow, the program can expand to grant more wishes and provide even more support to foster families. Importantly, this initiative aligns perfectly with JLGA's mission of promoting the well-being of children and families in the Riverbend region.
A Legacy of Impact
The "Fostering Wishes" Program represents an opportunity to create a lasting legacy. It addresses the urgent needs of foster teens and foster parents, aligns with JLGA's values, and provides a range of volunteer opportunities for members. This program is about stability, joy, and support for those who need it most in our community. As we move forward with "Fostering Wishes," we look forward to not only fulfilling immediate needs but also leaving a lasting impact on the lives of underserved foster teens and their families for generations to come.