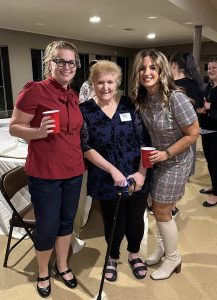 On October 5th, the Junior League of Greater Alton hosted a Retro Recruitment Event that left us all with hearts full of gratitude and excitement. The event was a resounding success, drawing in an enthusiastic crowd of potential new members who were as passionate about our mission as we are.
The evening was a delightful blend of nostalgia and the promise of a bright future. As we mingled with our guests, we couldn't help but be inspired by their eagerness to become part of our vibrant community. It was a fantastic opportunity to showcase the incredible work we do at the Junior League and the positive impact we make in the greater Alton area.
We extend our heartfelt thanks to everyone who attended the event, both newcomers and seasoned members who continue to support our mission. Together, we are shaping a brighter tomorrow for our community.
Stay tuned for more updates and opportunities to join our league as we continue our mission to empower women and create positive change in Greater Alton. If you missed the Retro Recruitment Event, don't worry—there are plenty of exciting adventures ahead with the Junior League of Greater Alton.