Benefits of Joining JLGA
The Junior League of Greater Alton is a fantastic opportunity to expand your social circle, invest in yourself as a woman and a community leader, and create positive change in your own backyard. We are a chapter of the Association of Junior Leagues International, Inc. serving the River Bend community.
How Can I Get Started?
First, fill out a form of interest. No pressure, it just means you are excited to learn more about becoming a member! Second, join us for our 2017 Social! See the Facebook event.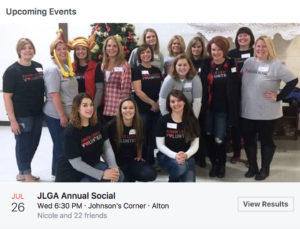 You can come and learn about JLGA, meet League members, and gauge your interest in joining. This year's social will be held from 6:30-8 p.m., Wednesday, July 26 at Johnson's Corner in Alton. 
(Miss this year's social? No problem! Fill out our form anyway and we will contact you about our upcoming membership training opportunities.)
In September, you will attend new member training sessions and become a Provisional member.
Your Provisional – or new member – period lasts several months, during which time you must meet League requirements (such as attending general meetings, board meetings and paying dues) in addition to taking part in a new member project or fundraiser, chosen by the members of your Provisional class. At the end of the Provisional period (December), you will become a full member of Junior League.
Want to know more?  We are currently recruiting for the 2017-2018 Provisional Class and are looking forward to meeting you!  Contact Jill for more info.
JLGA Membership Levels
Provisional: When you're a Provisional, it just meets you're a new member in the process of fulfilling your requirements to become an active member.
Active: Active members have completed the requirements for membership and are considered full members of JLGA.
Active Advisory: Active advisory is a temporary membership level which may be granted for one year to members in good standing with at least three years of active service. These members can vote, but may not hold office, and are required to fulfill their financial obligations. Ask our treasurer for more info. 
Sustaining: Sustaining members have fulfilled their Active membership requirements (5 years of service) and who continue to support this League and its communities. These members may not hold office or vote, but retain all other membership privileges.
Emeritus: Emeritus Status is granted upon reaching the age of 70. Once granted, she remains Emeritus permanently. EM remains on the League's membership list but are not obligated to pay dues.